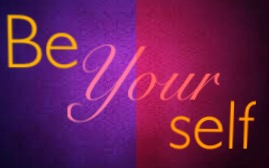 12 Sep

Be Yourself

Society is opening and diversifying, potentially giving you the opportunity to explore yourself deeper.

New age to new science are advocating the importance of being your authentic self, yet, if you have had your emotions, dreams and inner-self knocked, this can be the hardest thing to do and be.
Consider not over thinking any of that, life is sometimes hard, and it's meant to be. If you have not been stretched, you will not have progressed, nonetheless, also remember, life was not meant to be hard, all of the time.
Life on and off the yoga mat can often reflect what you are going through at any one time, and yoga can be used to help understand yourself a lot better. Like life, a well taught yoga class, has potential moments of bliss, deep peace and surrender. There can be some known roads of accomplishments, yet some parts frustrating, a pull and impossible. Parts where blame seems the only way to remedy the difficulty, yet from class to class, you learn more peaceful ways to find your way through.
Through these times on the yoga mat, be it rough or smooth, continue to be yourself, and do not strive to do better than anyone else in the class. Always be inside your body, regardless of the internal flurry or applause you are in. Be with your breath and explore only you.
No practice is meant to feel the same as another, and regardless of how streamlined your yoga practice looks externally, your inner journey will be different every single time.
The practice is profound and it is an enriching way to practice being yourself and saying hello. Tears can come in the reunion, in the challenge, and it can be these overwhelming moments that open us up to our deeper selves. As Sri K Pattabhi Jois said, "practice, practice and all is coming."
By
Anthea Simpson