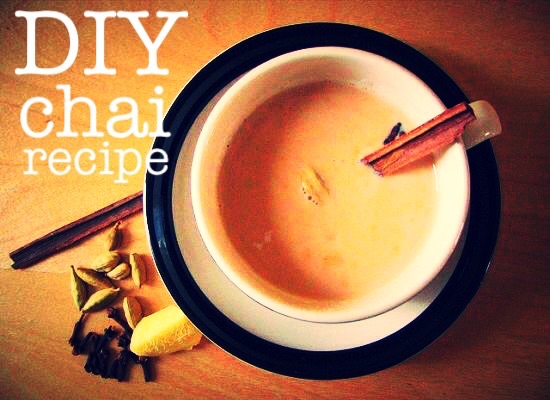 21 Nov

DIY Yogi Chai Recipe

My two favourite tastes from India are the juice from the fresh coconut, and the sweet spices of milky chai.  I've yet to find a tea bag  that has hit the spot, and instead enjoy the ritual of making my own on the stove and inhaling all the aromas.

When autumn bursts into colour I remember about Chai and find its perfect as the days get a bit colder and nights a bit longer.  It's such a comfort after yoga class or on an indulgent late Sunday afternoon.

Please comment below and let me know how you enjoyed it.
Pop the following ingredients into a mortal and prestle and grind.
4 Cloves
2 Peppercorns
3 Cardomon Pods
(break open the cardomon pods and leave out the shell before grinding)
Add to the pan with
1/4 inch cube of Fresh Root Ginger
1 Broken up Cinnamon Stick
2 Cups of Water
1-2 Rooibush Tea Bags or use loose tea if you prefer (depending on desired strength) *
Heat and bring to a gentle boil
The longer you simmer the stronger the flavour.
I recommend simmering on the lowest heat for 5 minutes.
* If using tea bags, add the tea to the pan and dispose of the bags
Add your chosen milk (I prefer almond) and amount to your personal taste, and continue to  heat through at a low heat.
Remove from the heat
Use a tea strainer or equivalent to strain as you pour
Leave to stand for a moment
Enjoy
Bon Appetite
Anthea