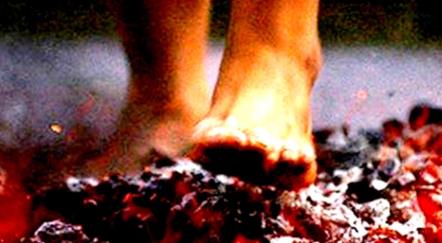 01 May

Charity Firewalk Update

Thank you so much for all your support for the firewalk!

You'll be glad to know we survived, and here's a few pictures to tell the tale:

Lighting the fire . . .
Then we waited for the wood to burn down ready for our walk.
The temperature was about 500 degrees C!
We were told to keep our heads up, walk quickly but don't run.
The first few steps didn't feel too hot, but the last few did!
I had a tiny blister on one foot afterwards, but I was able to walk home and it feels fine.
Just before we did the firewalk, our coach Brian Costello,  owner of Headstrong Glasgow, demonstrated another test of courage, placing the tip of an arrow in the soft part of your throat and then breaking the arrow with your body weight.
Then, he told us it was our turn!
It was almost scarier than doing the firewalk as it was completely unexpected, but it felt amazing! We were all buzzing and ready to Firewalk!
Not your average Sunday night – I would highly recommend it!
And of course, the most important thing, we raised a lot of money for the Glasgow Children's Hospital.
If you would still like to donate, there's still time:
https://www.justgiving.com/fundraising/Anna-Daintrey
(Pictured left to right Loreen Riddell, Vikki Paterson, Jacqueline McGinty, Mark Riddell, Anthea Simpson, Sophie Rainey, Anna Daintrey, Lindsay MacDonald)
A Massive Thank You to West of Scotland Cricket Ground for the use of your outdoor space, Glasgow University Event Management Students for putting on such a worthwhile event and Brian Costello from Headstrong for helping us achieve it!
It was such an awesome experience, which wouldn't have been the same without our amazing students. Thank you so much for raising money for Glasgow's Children's Hospital and doing it with us!
Lots of love and thanks!
Anna x