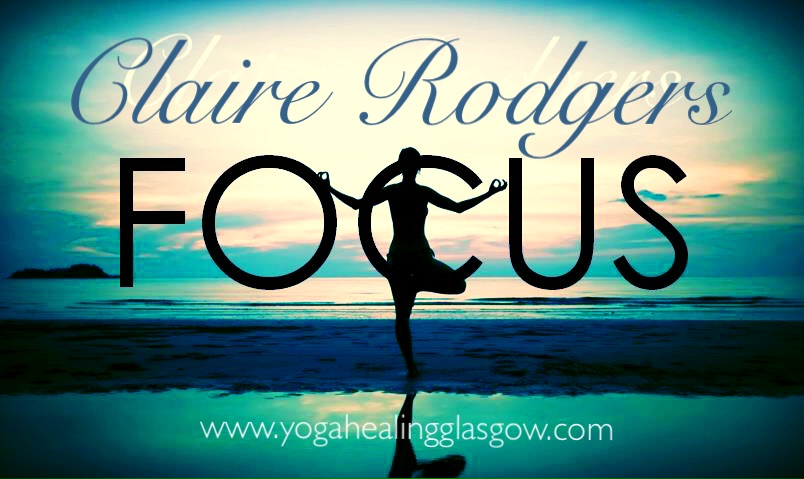 17 Oct

Getting To Know Claire Better

Writer, teacher and yoga therapist Claire Rodgers who sees yoga students on a 1-2-1 basis, at her monthly Sunday workshops, and new Saturday morning yoga class at Yoga Healing Glasgow, shares her thoughts on crayons, films, life and yoga.
Are you a hunter or a gatherer?
I'd say I'm a gatherer. I'm not a huge go-getter and tend to potter around a lot, kind of more the tortoise than the hare, but hopefully getting things done in the end.
Your a new addition to the crayon box. What colour would you be and why?
Oh, I think I would be sky blue. I love the colour, and I am a great believer in little things making a difference, like nipping out at lunchtime for a quick walk, and lifting your gaze upwards. It's a great way to boost your mood, even if you don't get a glimpse of the blue sky, just looking up into the 'heavens' helps remind us there's a bigger picture when we are caught up in the day to day worries.
What was the last gift you gave someone?
That's easy, just two days ago my niece brought round her gorgeous new baby for a visit.  I'd already bought her some baby clothes and stuff when she was born, so this time it was books – The Very Hungry Caterpillar and Mog, the cat. You're never too young to be introduced to books, or cats. My cats were the first cats she had ever seen, so it was lovely watching her little face stare in wonder at them.
If you could be any yoga pose what would you be and why?
Oh, I think I would be Garudasana, Eagle Pose, which I love to practice, but would also love to be an eagle – Just imagine soaring above everything. When I travelled in Africa years ago, a huge African eagle flew over me in the Rift Valley. I was walking ahead from the people I was with, so only I saw it, it was amazing, something I will always remember.
What's your favourite yoga or self development book of all time?
It's got to be Asana, Pranayama, Mudra Bandha by Swami Satyananda Saraswati. A classic hatha yoga book, which just has so much in it, written simply, with everything you need. I always go back to it when looking for things to help me with my own practise and for help with classes and 1-2-1 therapy. Sometimes we need to take things right back to the simple Pawamuktasana Series, which look like basic stuff when you see a lot of the complicated asana stuff out there online etc., which is out of reach for most of us. But they are really powerful in working with the breath, movement and energy, releasing blockages and allowing the energy within us to flow unobstructed. Less can definitely be more with yoga.
What do you value most in others?
Just simple things, kindness and compassion for others, and not taking yourself too seriously.
When did you last cry and why?
Oh, I think watching the news just now can easily bring a few tears, it's just horrendous, some of the awful things happening to people right now.
What's your favourite movie of all time and why?
I love films, and would probably say a different one, every day, depending on my mood. I love the old 50s films, so Cat on a Hot Tin Roof could be up there, anything with Liz and Paul is going to be great, but add in Tennessee Williams as the writer and it's special.
Where do you get your inspiration from when creating your classes?
I get inspired by my students, and my 1-2-1 yoga. So I might be studying something to help someone in their practise, or for a condition they have, and find out new poses, sequences or breathing, or a different way of teaching something. I love going to the on-going training events with Yoga Scotland, who I trained with, so find a lot of inspiration there too, and it's good to look at online stuff for new things too.
If you were Prime Minister what would you do?
God, where do I start? Meditation taught in all schools would be a good first day, look at the laws around what's put in our food, how animals and the environment are being treated. Renewable energy, a big push on ending sexual violence, helping young people to respect each other as people, not seeing girls as sexual objects, compassion and help for refugees. I could go on and on, and quite often I do …
What's the first thing you do when you wake up in the morning?
I hate to say it, but I check my phone, then kind of plan my day, but always do a little conscious breathing and meditation to set a peaceful tone for the day ahead.
What did you want to be when you were younger?
I really wasn't sure. I knew I wanted to help people, so just kind of gravitated into mental health and psychology, and feel with yoga it's just widened things out to a whole body/mind/spirit approach to well-being.
What do you want to be now you are older?
Carry on building up my 1-2-1 yoga therapy, workshops and do some more writing I hope.
You can see Claire for 1-2-1 Yoga Therapy, Saturday morning Yoga and Sunday workshops at Yoga Healing Glasgow. You can contact Claire directly on 07811 353240 if you would like to chat to her more.