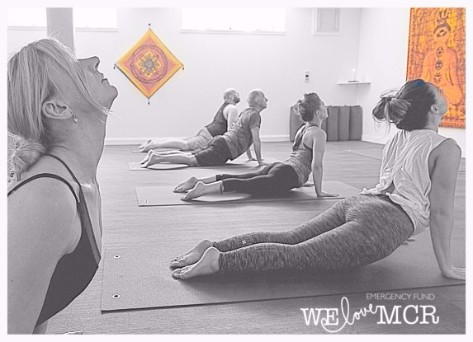 05 Jun

International Yoga Charity Day
We know the energy of a room can potentially change when there is fear, and we know a world can potentially change when there is fear. But does a room, a community and indeed a world have the potential to change when there is love?

For Summer Solstice and International Yoga Day we have been busy planning special events for you, 4 memorable events: The Great 108.

However, in the light of recent events, Yoga Healing Glasgow wanted to do something more, and to do something more we are now setting up these special events with a price, and along with our free teaching we will be sending all the proceeds to The Red Cross Manchester Appeal.

So, what are we doing?

On Wednesday 21st June we are running 4 classes focusing on the Classical Hatha Sequence of Sun Salutation. (Surya Namaskar) Each class will involve a guided breakdown of 27 Surya Namaskar to bring us to the magical number of 108.

You can read about each focused class below, with the opportunity of booking onto 1, 2, 3 or all 4 classes. Don't worry if you're not sure if you can manage so many Sun Salutations. There will be options that we will go through in each class, so that you keep to the yogic way, of taking things at your own pace.

We also have our JustGiving page link here https://www.justgiving.com/fundraising/Great108
for friends, family and indeed yourself to donate.

Can't make it? You can also donate, and join us in spirit, at home or at work, and practice with us, at the same time, and at 8am and 8pm when we will be chanting OM.
In Eastern Philosophies, 108 is a sacred number, and different mantras and yoga postures are often repeated 108 times to help connect us to our highest selves.

Mala Beads, from the East, are made up of 108 beads and used to help the 108 count in these meditations and mantras.

Did you know the famous book and movie 'Eat, Pray, Love' had 108 chapters to reflect how special this number is.

This special auspicious number, known as a Harshad number (Sanskrit for Great Joy) is not only a perfect 3-digit multiple of 3, but is the total number of energy lines that connect to our Heart Chakra (Anahata Chakra).
Awakening Connection
with Anthea Simpson
6.30am 
Wednesday 21st June 2017
Wake to the Summer Solstice with a morning yoga practice of conscious connection. Flow through the Classical Hatha Yoga sequence of Surya Namaskar to awaken you into a heart centred practice, connecting compassionately to yourself, your family, your community and your world.
£10 regular drop in
£9 bundle members
£7 unlimited & concession members
BOOK UNDER COURSES

Strengthening Connection


with Claire Black

12.30pm 
Wednesday 21st June 2017

Connect to the strength of your body through this dynamic mid-day yoga practice. Flow through the Classical Hatha Sequence of Surya Namaskara, igniting your connection to your bandhas, helping to support you, lift you, and strengthen your whole body.

£10 regular drop in
£9 bundle members
£7 unlimited & concession members
BOOK UNDER COURSES

Seasonal Connection


with Anna Daintrey

6pm 
Wednesday 21st June 2017

Embody each season of the year with this special early evening yoga practice, helping you to connect to the elements around you. Flow through the Classical Hatha Sequence of Surya Namaskar, connecting to each of the five elements through movement and breath, supporting you to connect, not only to the elements around you, but to their reflection within you.

£10 regular drop in
£9 bundle members
£7 unlimited & concession members
BOOK UNDER COURSES
Chakra Connection


with Anna Daintrey

7.30pm 
Wednesday 21st June 2017

Be guided through the subtle energy centres of your body to bring you into a place of deep connection and being. Flow through the Classical Hatha Sequence of Surya Namaskar, connecting you to each chakra centre and building the awareness each one brings.

£10 regular drop in
£9 bundle members
£7 unlimited & concession members
BOOK UNDER COURSES
All proceeds going to The Red Cross Manchester Appeal