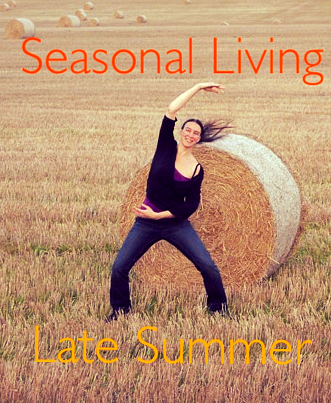 19 Sep

It's Late Summer and Time to Centre

24 hour supermarkets are stacked with an array of choice. We can pretty much pick up any type of food, at anytime of the year. We don't have to go to Thailand to quench on a Mango or New Zealand to taste a kiwi fruit anymore. The selection of choice on our shelves has never been so varied, and with on demand everything, we can live day-time in night-time, and eat strawberries on a snowy January morning if we want to. 24/7 gives us even more scope to burn our candle from both ends, but what happens to that midnight oil? 
Well, we are living, breathing, seasonal creatures, and like it or not, we are affected by our environment. Our bodies feel the dark nights looming and the cooling of the late summer air. But, like it or not, if we do fight against it, we can very much count on being let down by our energy levels and perhaps by the weather itself. Would making these changes limit my life? You might have a tendency to think this approach could be limiting, potentially dull and drab, but its far from it. Living by the season actually brings marked differences to every season, and looking back at your year, these seasonal changes can create very different memories and experiences. These differences can be used as tools for self development, greater connection to nature, management of sleep and energy levels, and help you to listen to your body more and what it needs at different times of the year.
At YogaHealingGlasgow we offer Seasonal Yoga and Lifestyle Workshops every season. They're not only inspiring, but tools you can bring into your life, without any blandness in sight. Workshops with Anna are fun and inter-active, moving your body through seasonal yoga postures, maximising your energy levels through breathing techniques and coming away with some really cool information.
Why not bring your notepad and pen to make notes!!
Here's a quencher of some Late Summer Tips for you to peruse over and to consider:
1 – Build upon grounding and core strength in your body
2 – Draw energy into your centre and start consolidating and storing
3 – Slow down, and take time to nourish and digest your mind and body fully
4 – Nurture and support yourself and those around you
5 – Get into a regular routine and build a stable base to develop from
6 – Build self-esteem by doing something just for you
Anna's next workshop is on Sunday 2nd October at YogaHealingGlasgow from 2pm-5pm.
Go to BOOK ONLINE to reserve your space.
By Anthea Simpson